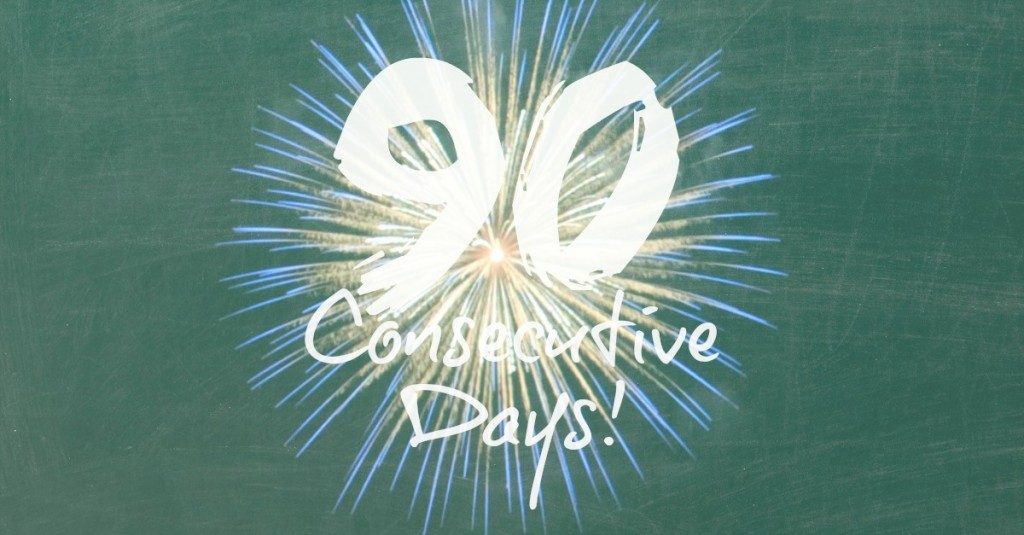 90 Days. No big deal, right? We learn new things. We make commitments. We enter challenges. I can do that for 90 days. N0 problem. I made a commitment to do something that I had never done on a regular basis. I was much like you … I wondered if I could do it. And, would it really matter?
Well, yes I did it. And YES, it really matters. I am celebrating because of my 90 Day Consecutive Success but I want to remain reverent and respect the space. "So what is it?" 'What did you do, Deb?"
Thanks to encouragement from Steph Marks and my commitment to make some changes in my life, I have just completed 90 consecutive days of meditation. Now, if you meditate regularly, that's no biggy for you. But for me, it is HUGE!
I wrote a post about meditation recently and you can read it here. Steph has been practicing meditation for a long time . We started talking about it and I decided I wanted to start. She made some suggestions of some meditations that she thought I would like. Those were much appreciated.
She said one more thing … download the Insight Timer app. It will help you stay on task and let you know how you are doing with consistency and amount of time. I LOVE that app.
So what happened "to" me in those 90 days. It's funny, not haha funny, but interesting, that my 90th consecutive day of meditation is on the eve of a project that Steph and I have been working on. We have been together for over 14 years and have attempted to work together on several occasions but for some reason, we just couldn't get anything to work. But this time it is totally different.
Did the meditation play a role in us achieving one of our dreams. I believe it did. I have to say that I feel much more grounded in who I am and what my purpose is. Did the 90 days of meditation do that? I believe it did.
Everything in our life has the meaning and power that we give it. Meditation has been good for me and I enjoy it. I look forward to it every morning and I feel empty when I do not get to it first in the mornings.
This is a good practice to have. If you do not meditate, I suggest you give it a try. As I mentioned in the earlier post about it, I started with 1 minute at a time.
I believe in you and that you can be, do, and have anything that you desire.
That's it for today. Told you it would be short! Thanks for stopping by.
Remember: Dream big. Believe in yourself. Do the work.
Note: You know that your blog/website is your home online, right? Don't be homeless! If you do not have a blog/website, click here to get started right now.
Another thing…If you are anything like me, you are always looking for additional ways to create income from things that you already do. If that's you too, you might want to check this option. If you have questions about it, tap the contact me button at the top of this page and send me an email. I will be happy to answer your questions.
P.S. Thanks for stopping by today! I would really appreciate it if you would scroll down some more to the comments section. Leave a comment about what you thought of the article, if it was helpful…or just leave a note to let me know you stopped by.
P.S.S. One more thing…If you found some value in this article and you think your friends would too, be sure and hit one or all of the social share buttons. The more the merrier!