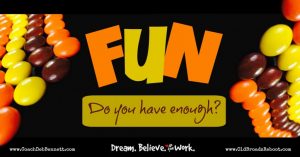 Well, what do you think? What part does fun play in your success? This might be a crazy way to make my point, but take a look at those "dots" in the picture above. Do you know what they are? They are my absolute favorite candy in the world. I won't mention any brand names here, but they come in pieces, and in the assorted three colors. The colors make them a perfect candy for October (Halloween, and all).
"What's the point, Deb?" you might be asking. Well, I believe that to be successful, we must have a good amount of fun and precision and excellence in what we do.  Ronald P. Culberson created a two-step process that evolved into the book, Do It Well. Make It Fun.: The Key to Success in Life, Death, and Almost Everything in Between.  He did his graduate thesis in social work on the relationship between humor and depression. He started doing presentations on the benefits of humor. 
The point is to do what you do well but spice it up a bit. Make it fun! You will enjoy what you are doing more … and so will those around you. You and your clients won't get bored — and, it's good for stress relief. The point he makes is that you can't slack off and be funny. That can work against you because you don't have any credibility. Doing a good job AND being funny seems to work best.
Fun. We need more of it … not someday, now. Martha Beck offers three techniques that can reconnect you with you sense of fun. Here's what she calls them:
Technique 1: Fishing for smiles

Technique 2: Childhood revisited

Technique 3: Real-time research
These are great ways to "find" what is fun! You can read her full article here.
Or…you can empty a handful of those pieces on the tray and line them up by color like I do. Funny thing, if I stick my hand in the bag and get a few, I can gobble them all at one time. But, if they are out where I see them, gotta line 'em up and eat them one-at-a-time. By color of course.
That's just a silly – compulsive – thing that I do. But, I wanted to get your attention. We all have to find what brings us joy and fun and excitement. You have to decide what makes you smile. And laugh. And be at your best. Then, implement those same things into what we do for others.
That's a wrap for today. Remember: Dream big. Believe in yourself. Do the work.
P.S. Thanks for stopping by today! I would really appreciate it if you would scroll down some more to the comments section. Leave a comment about what you thought of the article, if it was helpful…or just leave a note to let me know you stopped by.
P.S.S. One more thing…If you found some value in this article and you think your friends would too, be sure and hit one or all of the social share buttons. The more the merrier!